Keywords are like sails to your massive ship of Online Marketing. The right ones can propel your brand to great distances by empowering you to overcome the roughest of storms.
Marketers use keywords strategies based on their experience and knowledge. While their techniques and ideologies are mostly similar, only one practice that can create a massive rift among them viz. branded keywords.
Branded keywords is a highly debated subject among marketers that presents a divided opinion; should you or should you not bid on your branded keywords? Both sides have strong reasons for their preference; one is based on facts while the other considers the sentiments.
Let's understand both sides of this argument and see how data-driven analysis can enable you to get a decisive answer on approaching branded keywords in paid search.
Should you bid on branded keywords?
75% of the PPC community believes in including brand names in their PPC campaigns. The other 25% is against bidding on branded keywords. The opposition against bidding for branded keywords is based on the notion, 'why must Google get paid for the brand awareness they have struggled so hard to build.'
Questions about using branded keywords in PPC campaigns are often asked in the various forums by the students of courses like Google Ads Mastery.
There are two types of answers to this question. Let us understand both while finding the answer to this question.
The "No Brand Keywords" argument
The most common points in the fight against branded search terms bidding include:
Established organic search ranking
Companies spend a substantial amount of time and money to create a brand authority that enables them to rank among the top organic searches for their brand name. Since they have already cemented themselves on the top of the search rankings, it makes no sense paying to advertise for it.
Wise utilization of money
Google keyword advertising is expensive at times, and using your advertising budget on the branded keywords can be a massive waste of money. Instead, utilizing the marketing budget to advertise non-ranking search terms can be a wiser move.
We own the brand, not Google
Marketers consider it unfair to pay Google for getting clicks on their brand. They believe if the brand belongs to them, why should Google benefit from the brand's popularity.
They can click on the organic search results
If users are using branded search, they must be looking for the companies homepage. The search will lead them to the organic results and let them access the website.
These arguments are based on the experience of the marketer, but they have no statistical evidence for these points.
What is the argument on advertising on branded keywords?
Here's how branded keywords add to your organic search results.
WordStream analysis shows, head terms, 2-3 word search terms tend to have around 20% organic click-through-rate (CTR).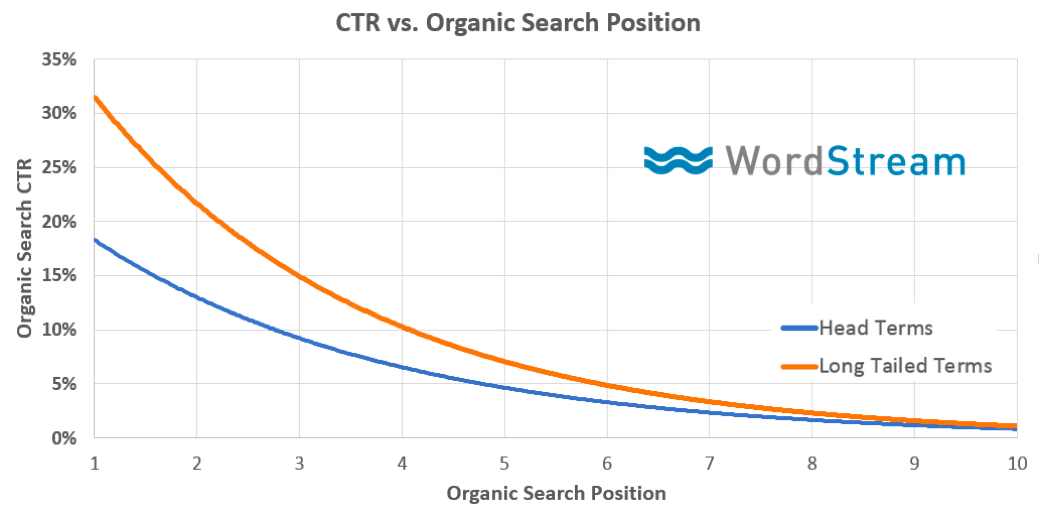 Meanwhile, 30% of organic CTR is from Long-tail keywords, and search terms comprise of 4 or more words. And, brand names are in the category of head terms. Hence, you get around 20% – 30% of the available clicks even if your brand ranks #1 in the organic search of your branded keywords.
It means even the best organic search results are missing out on 70% of the search traffic.
Let's take a look at branded keywords from a customer perspective.
These are the search results of a drone manufacturing company 'Dji'.
The top results that occupy the screen are Shopping Ads, followed by a Text and the company information appearing on the right side of the page. You have to bypass a minimum of five different links to get to the organic listing.
Do your customers have enough patience to find your brand in the organic search results?
From a customer's perspective, the paid ads, shopping ads, and your company bio will appear way ahead before they reach the organic links to your website.
The customer will use the ad links, as they are already getting the latest information through them.
Search ads allow your brand to occupy more space on the search pages and more get clicks
Think of it as real estate, and you are asked to pay a tax to keep a prime property for your business or refuse to pay and let your rival business take that spot and miss out on potential customers and more revenue. Won't you, right?
DJI has done the same thing with their ads; they got every ad space they could, closing the door on their rivals.
The effects of Incremental clicks:
Google published a study showing that incremental clicks can have a massive impact on search advertising in 2011. Listings that were published with paid ads and organic results got 89% more clicks, as compared to listings without search ads. This means a significant impact on CTR can be achieved by combining paid search with organic rank.
Another study released by Google in 2012 found that combining paid ads with an organic rank can have a substantial impact.
Moreover, the top five organic results had the highest incremental gains.
What are the benefits of advertising on branded keywords?
Every marketing tactic has benefits that make it a better alternative to the usual advertising platform. SmartMetrics marketing team shares some of the top benefits you get when you choose to advertise on branded keywords.
High CTR and quality score:
These metrics can improve your account quality score and help your ad campaigns across the board.
Inexpensive clicks
Branded keywords have less competition and hence offer the lowest cost-per-click of all your advertising.
Branded keywords conversions are cheap
Paid ads lead searchers to the landing page of your choice; they don't have to go to the homepage to find what they need. They are directed to the best answer your business has for their search.
Branded keywords make your account performance better, and the benefits of advertising on these keywords are much more than its cost.
How SmarMetrics experts suggest using branded keywords
When it comes to bidding on branded keywords, we advise you to look at the data. Advertise on your branded keywords all the time, especially if you are using Google Ads.
If this strategy doesn't work, there are other underlying problems that you need to look for. Even though you own your brand, but you are advertising on Google's Search Network to find customers, so paying Google should not be a problem.
You need to understand that it is a part of a more effective strategy to produce better results and cost-effective conversions.