Here is the big question, how do you appear on Google's first page?
It all boils down to having a solid search engine optimization (SEO) strategy. To a large extent, SEO translates to great content — but it does not end there. It includes the user experience of your web visitors.
With the regular updates of Google's search algorithms, SEO keeps changing.
If you've been following Google's search engine algorithm changes and updates, you've probably heard of core web vitals becoming rank signals in May 2021.
Here comes the next big question — what are core web vitals, and how will this recent update change the user experience of a searcher?
Core Web Vitals
Core web vitals are factors that contribute to the overall user experience. One of the primary objectives of Google is to provide the best search experience for a user. One way of doing that is by offering a helpful and enjoyable web experience — and core web vitals play a role in this.
Core web vitals measure how a user experiences the responsiveness, visual stability, and speed of a web page. It's not a static metric as it can change as the web page user experience changes.
Core web vitals are defined by the largest contentful paint, first input delay, and cumulative layout shift.
Largest Contentful Paint (LCP): It's the time taken for a web page to load. When you click on a link, the time it takes to see the web content on the screen is the largest contentful paint.
Ideally, the largest contentful paint is 2.5 seconds or faster.
To measure the LCP, use Google PageSpeed Insights.
First Input Delay: It's the time taken for a web page to be fully interactive. The ideal first input delay is less than 100 ms.
Web page interactions include choosing an option from the menu, entering an email in the required field, and performing other relevant actions.
Cumulative Layout Shift (CLS): It shows how stable your page is as it loads. That is, if the elements of your web page move around as it loads, the CLS is high.
A good CLS is less than 0.1.
Now you understand what the core web vitals are and how to measure them, here is how the recent update will change the user experience of the searcher.
How the recent changes will change the user experience of the searcher
Previously, UX-related signals include mobile-friendliness, intrusive interstitial guidelines, HTTPS security, and safe-browsing. When the update rolls out in May 2021, page experience signals will be part of the Google search ranking signals.
Speaking of page experience signals, these signals will include core web vitals and the previous UX-related signals.
These signals are helpful parameters that measure the user experience when interacting with web pages.
With the advent of page experience signals, Google may likely add new labels in search results. These new labels will pretty much indicate a web page with good page experience.
Aside from the page experience signals, Google is working on providing visual indicators that show pages with the best page experience. These new labels will go a long way in boosting the overall user experience of the average web user.
The thing is, most web pages do not qualify for the new labels. Reports show that less than 15% of websites are optimized to pass the core web vitals assessments — that's poor considering the billions of websites out there.
The good news is, site owners are working hard to improve their overall web experience signals. Putting it into perspective, Google reports a median 70% increase in the number of users using the PageSpeed Insights and Lighthouse tools. These tools help site owners measure their page experience signals.
Besides using tools like the Lighthouse and PageSpeed Insights, site owners can opt for Accelerated Mobile Page (AMP). Here is the thing, lots of AMP pages have excellent page experience. Therefore, a site owner can opt for AMP — after all, it is a cost-effective and easy way of optimizing page experience signals.
What of non-AMP pages? Well, non-AMP pages will be eligible to appear in Top Stories. Everything rolls out at the same time in May 2021.
For a page to appear in the Top Stories carousel, it has to meet the news content policies. Furthermore, pages with superior experience will be prioritized during page ranking.
How To Improve Your Site Experience
There are lots of tools to help you improve your web experience. To get started, you've got to do a thorough website audit. SmartMetrics Premium SEO Toolkit provides detailed on-page SEO reports, as well as Core Web Vitals metrics. Besides the technical audit, you can also track your keyword rankings, backlinks, social media posts, and even spy on your competitor's SEO and SEM positions.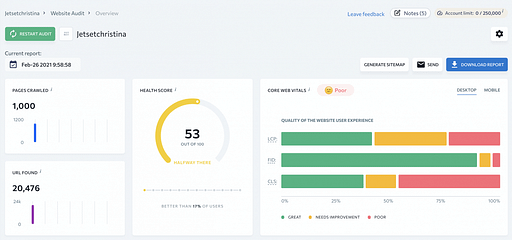 You can also use Lighthouse and PageSpeed Insights to get Core Web Vital metrics.
Feel free to send a message to SmartMetrics engineers if you have questions about Web Core Vitals or website performance in general.