The analytics reports generated by SmartMetrics GDS experts allow the users to scale the performance of their ads and tweak them to get a better response. However, these numbers might not be the same for people who have no idea how to read an analytics report.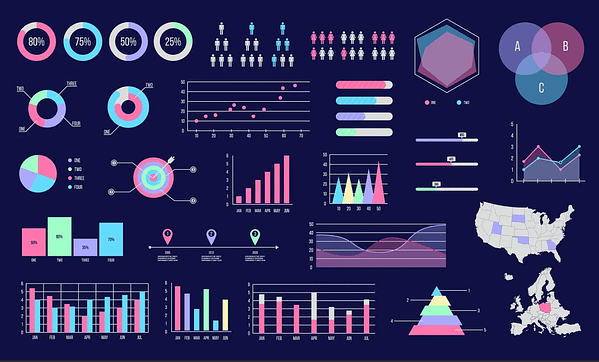 Image Credit: KTVN
Now, this is where studying data feels cumbersome. To uncomplicate the technical charts and graphs, you have to download them and put all the essential numbers and insights into a spreadsheet and a PowerPoint presentation. Here's where Google's Data Studio Community Visualizations comes into play.
Currently, in the beta form, Data Studio Community Visualizations helps you to create and integrate custom JavaScript components into your dashboards. These components can be used for chart selection, to customize your report styling, or to create custom components that perform advanced analysis or even in-browser machine learning.
At SmartMetrics, we believe that the possibilities with Data Studio Community Visualizations are endless; let us take a look at how to make the best use of Data Studio Community Visualizations.
Galleries for Data Studio Community Visualizations
Showcase gallery for Community Visualization reports
The recently launched Community Visualization Report Gallery helps you find the different Community Visualizations that have been used by other members of the community and use the data and dashboard to their true potential.
Public Partner Visualization Gallery
You can explore the new Data Studio Visualizations gallery to find the data visualizations created by Data Studio partners and use them in your dashboards.
The gallery contains visualization components like an animated bar chart, funnel chart, cards view, chord diagram, currency selector, and more that can enhance usability and make your dashboard more comfortable to understand.
Click-to-add Partner Visualizations
Adding these visualizations to your dashboard is very easy. All you have to do is click on the 'Explore more' button in the community visualizations dropdown.
Doing so will take you to a page comprising the different visualizations, including partner-built charts, funnel visualizations, and Gantt charts. From helping you create custom charts and styling to integrating a calculator function, community visualization can make your dashboard so much better.
Statistical analysis with Community Visualizations
Data-driven decisions can work wonders for social media and search engine marketing campaigns. Anvil Analytics + Insights who are known for using this advanced approach have used Community Visualizations to create their very own Chi-Square statistical analyzer.
The Anvil Insights team used to manually export data from Google's analytics into a separate tool to run statistical analysis. However, this was before using Community Visualizations.
The team had to repeat the entire process all over again if they wanted to test a hypothesis or a different version of the test. Moreover, based on the analysis, the results were stored differently from their location and, at times, were not saved.
To reduce the testing time used for hypothesis testing and to integrate the test and results into Data Studio reports, Anvil used Data Studio Community Visualizations and created a Chi-Square calculator within a week.
The Chi-Square calculator takes the data like the other Data Studio charts and presents the statistical significance upon the completion of the calculation. Most importantly, it highlights the relationship in the data or comments if there was nothing noteworthy in the data.
This makes testing the new hypothesis much easier. To test a new theory, you have to replace the data components like the other Data Studio chart. You can watch it live here.
Anvil's Chi-Square calculator has helped its customers understand the difference in conversion rates of Google Ads and Analytics and know if the difference was too much to have an impact on their campaigns.
Anvil's Director of Analytics and Decision Science, Brett Lohmeyer, says, "This has been a much faster way to find statistical significance in our campaigns and other hypotheses we want to test. The best part is that it gives us an easy way for our team to communicate better the value of using statistical significance to our clients."
Conclusion
SmartMetrics believes that the best way to learn about this new and fantastic tool is to try it out yourself. You can start by including the necessary functionalities in your dashboard, and as you get familiar with the tool, you can try other features too.
If you are already using Data Studio, you can try the new in-product Partner Visualizations Gallery to browse and add new partner-built Community Visualizations to your reports.
Want to build your Community Visualizations, why not? Check out this developer documentation from Data Studio to gain more insights about the same.
*All the images have been sourced from Google Marketing Platform