It's quite challenging to produce high-quality videos for your e-commerce store. It's expensive to get the necessary equipment, and it cost even more to get an expert who knows how to use it. For this reason, most e-commerce businesses go for photos and graphics to get the job done without breaking the bank.
While video marketing seems quite pricey, these statistics show it might be an investment worth making. Of course, you'll dig deeper into your pocket, but the outcome is more rewarding.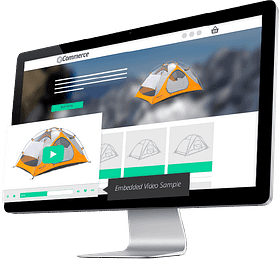 Here Are Product Stats Marketers Need to Know
1. The Majority of Marketers Use Video Content to Sell Their Products and Services
According to our Not Another State of Marketing Report, the marketers interviewed revealed that video is the number one content produced in their content marketing programs, surpassing blog posts for the first time.
2. At Least Half of Marketers Invest in Some Sort of Product-Related Video
In the HubSpot reported highlighted above, we discovered that about a quarter of marketers invested in marketing videos, and at least a fifth of them focused on product demos.
3. More Than 70% of Those Who Watch Product Videos Will Most Likely Make a Purchase
In case you didn't know, your products have high chances of selling if you create promotional videos for them. We've touched on this in the next points, but all you need to know is that videos for your products increase purchases.
4. 92% of Marketers Who Use Video Content Say It's An Essential Part of Their Marketing Strategy – The Figure is Up From 78% in 2015
Based on the late-2019 Wyzowl Survey, interviewing marketers concerning their video tactics, the figure above rose from 78% in 2015. With such a remarkable improvement, there's no doubt marketers are finding video content worth their investment.
5. More than 70% of Consumers Prefer Video to Other Marketing Content
Consumers are more likely to spend their money on your products if they understand what you sell. Video content clears anything that's confusing to the consumer, and that's the goal of every marketing strategy. It's all about answering a customer's questions with high-quality content.
6. At least 80% of Generation Z Prefers Branded Videos or Ads That Show Someone Giving Product Descriptions
Generation Z is known for its digital connectivity and budget-consciousness. As you sell your product to them, it's essential to keep the buyer's journey in mind. Mostly, people in this age group look for video-based content, ads, demos, tutorials, unboxings, or video reviews from influencers to get an idea about how the product works and how it looks like in real life before making a purchase.
7. At Least 55% of Consumers Rely on Videos To Make Purchase Decisions
Gen Z isn't the only age group that relies on video content to make purchase decisions. According to 2019 data from Google, at least half of persons in all age groups must watch a video before purchasing a product. This is because authentic videos tend to lead to a greater sense of trust. Buyers obtain quality information from product videos, and this prompts them to make a purchase. They understand more about the products they're ordering, and, therefore, they don't hesitate to complete the purchase.
How to Create Engaging Product Video
Every marketing strategy aims to build trust in customers by answering their questions regarding your product. That's why it's worth investing in product video production, as more people nowadays rely on video content to make purchase decisions.
If you feel like giving it a try after going through the stats above, be sure to find out what you'd like to do first. Here are a few examples of product video formats you may consider:
User-Generated Content: If you have repeat customers who like using your products or services, encourage them to create video reviews or unboxings that you can share publicly on social media platforms or your website. Others might trust your products simply because someone is talking well about them in a video.
Demos/Tutorials: These videos describe how the product or service works to give the consumer an idea of how it functions in a real-world setting.
Ads or Video Promotions: They're usually shorter than tutorials, mainly highlighting the product or service's key features. These videos don't go into full details about how the product or service works.
Influencer Marketing Videos: If producing product videos seems time-consuming, and you're willing to dig deeper into your pockets, go ahead and hire a macro or micro-influencer to post a video on their networks about your product.