Audience segmentation, by far, is the most challenging aspect of marketing. While marketers give industries, product maturities, and content strategies due consideration, they tend to overlook the importance of audience segmentation. Earlier, segmenting the audience into different groups was one of the most challenging tasks. However, with the rise of social media platforms and predictive audience capabilities, that's no longer the case.
SmartMetrics helps brands transform their digital presence by assisting them in understanding artificial intelligence. Our Analytics experts, who have studied the subject of predictive audiences in detail, provide you and your brand with hands-on AI experience through our premium package.
Audience Segmentation: Strike the Perfect Balance
For any campaign to be successful, marketers need to target the right audience. You can sell any product to any individual if you have the right strategy. But to maximize conversion, it's advisable to target based on the funnels. If you target the wrong audience, you're likely to lose more than just money – it can cost you your reputation! You don't want the consumers to opt-out of your marketing advances as many of them can be your potential customers.
To solve this issue, you can use artificial intelligence to confidently target and engage the right people based on their funnel stage. For instance, if a prospective buyer has just heard about your brand, you wouldn't want to categorize him/her in the 'interested' category. However, if he signs up on your website for more information, then that clarifies the intention.
The phenomenon of predictive audiences can be seen through Facebook ads and Google Ads, where you can find hyper-target audiences based on their interests. In such a case, one can skip through the awareness phase and move directly to the interest and desire stage.
AI in B2B Marketing Today
The term 'Artificial Intelligence' is one of the most used terms in marketing today. You must have heard about it in conjunction with machine learning. However, did you know that it provides you an opportunity to leverage your brand effectively? More than 66% of the marketers today rely on AI applications to find the right audience; however, only 18% of them have integrated AI-driven personalization.
If you see the numbers, you'll see how contrasting both these stats are. And that's primarily due to the barriers related to AI solutions and implementing them on a large scale. Not only are most of these services too costly, but the steep learning curve makes it even harder for companies to immerse themselves in such endeavors fully.
But those who know the power of AI know that it saves time. It eliminates constant manual laboring and takes charge, helping you save resources, manual tweaking, and testing various aspects of your campaign.
Now that you have a clear picture of the subject, let's check out various ways to use Predictive Audiences to spread awareness and generate more revenue.
1. Maximizing Registrations and Attendance for Events
You can start with something as simple as event registration. You can create an invite list for any event, per se, a webinar. Generally, the procedure to attract audience would flow as follows:
Trying to send the mailer to an audience that might or might be keen towards seeking knowledge related to the subject
Sending the emails
Hold the event without any prediction and leave it on luck
Cross your fingers, and host the event only if four people show up
With Predictive Audiences, you can integrate artificial intelligence to provide you a clear picture regarding the audience. Generally, the procedure to attract an audience with PA would flow as follows:
AI-powered service will target the audience itself and get them to register and sign-up for the event
Once you have the list, you can mail the event details with confidence
Alert-based notifications, if not enough people have responded properly
Intelligent recommendations to optimize your event invite
Know your audience before you hit the stage
With AI, all of these steps are embedded in your workflows. Using Predictive Filters in your campaigns, you can create Smart Lists along with various audience segmentations. You can set triggers for set points, and that's about it. You can leave the rest on AI. In the image below, you can see the terms 'Likelihood to Register' and 'Likelihood to Attend.' When you set these triggers, you'd know how many people are likely to be present at the event.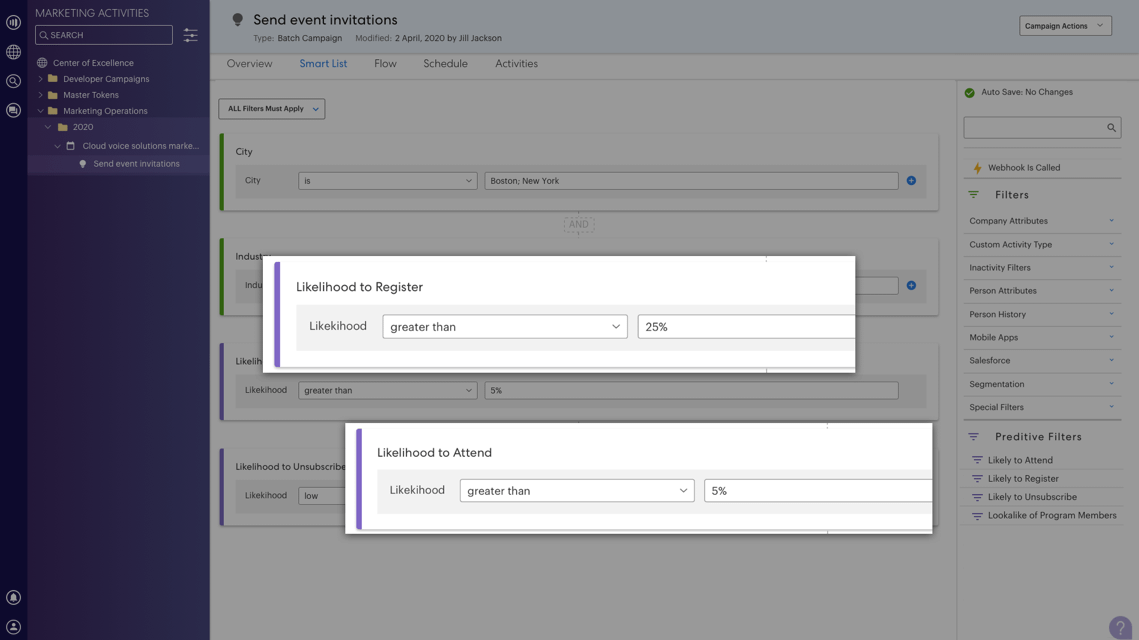 2. Minimizing Opt-Outs
Opt-outs are perhaps one of the most frustrating elements when organizing any event. As an organizer, you want to exceed your goals and not just reach them merely. While the first point talks about attracting the right audience, this one ensures how to retain them.
What if you can convince people to stay and not unsubscribe? It might sound complicated, but with a few additional steps, you can easily minimize the opt-outs. Adobe Sensei is one of the best tools to help you maintain your database health and reduce the unsubscriber rate significantly.
This feature is groundbreaking, and the ease-of-use is quite undermined. You can use 'Likelihood to Unsubscribe Predictive Filter' to help you create and update a specific marketing list geared towards convincing those audiences. Simultaneously, if the database is fatigued, you would want to ignore it as you want to increase the LTV of each member, and you don't want to push them towards the unsubscribing route.
3. Replicating Success
As a marketer or a brand, you want to host events in a series. It's like a tour, a mini-series, where you travel to places, trying to make a name for yourself or your brand. In this case, you can replicate the success of one event to another. Instead of just hoping for the best and rolling on, you can have an estimate before the event. You can even pilot your presentation or a webinar with a small subset, and you can use the material on a broader scale if you deemed it successful.
Instead of spending hours trying to replicate the attendees by finding similarities manually, you can let Predictive Audiences set a lookalike audience for you based on a Smart Campaign. Based on your existing audience segmentation and targeting database, you can add or remove certain filters to build the list further. As you progress, your AI will keep getting smarter, and the better you get at your craft, the better would be the turn-up ratio.
Conclusion
The power of predictive audiences can leverage your event significantly. The easy-to-use method will help you drive results without any technical skills. Platforms such as SmartMetrics provide AI-powered solutions to brands around the world. Connect with our Analytics experts to learn more about the available services.